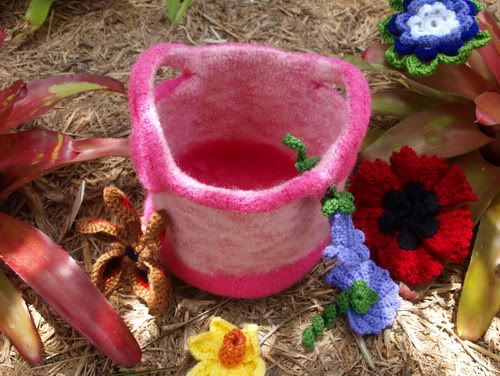 I just finished knitting and felting myself a new small projects bag.
Yarn
: Two balls of Lincraft "Cozy Wool". One in solid pink, the other in variegated pink and white.
Needles
: Instead of using 5 DPN's, I used 2x 40cm 4mm Addi Turbo circular knitting needles. I placed markers on the needles to simulate the 4 DPN's, and did the increases at the start of the needles and immeditely after the centre markers. It worked brilliantly!
Notes
: This bag shrunk by about half and the pink faded a little, but it is still nice and bright. I felted this in my front loader washing machine at 90 degrees celcius for the full length of the cycle. I added a towel for friction. I let the bag dry with a small plate in the bottom of the bag to make it sit flat.
The gorgeous crocheted flowers in the picture were lovingly supplied by my baby sister Joanne. :)