So I've been busy the last few weeks. I have finally finished the Checkmate sweater. The hardest part was sewing in the shawl collar. It looks amazing and I can't wait for the weather to cool down enough for Jayden to wear it. :) Yes, I sewed it up by myself!!! I am so pleased with how it has come out. I managed to get all the checks to line up properly and set the sleeves in evenly and neatly. YAY!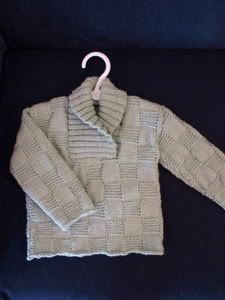 I bought myself a set of Knitpicks Harmony Straight Knitting needles, as they were ordered in to my LYS (thank you!) They range from 3.5mm to 8mm with room for more sizes. I can't wait to use them. This was my Christmas present to myself, from last year.
I've recently returned from a trip to Sovereign Hill, Bendigo and Echuca. I was told that I simply must visit the Bendigo Woollen Mill while I am there. So I did. Mwahahahaha!
I have never seen so much yarn in my life. This picture is only about 1/6th of the store. It was amazing. Needless to say, I bought a few souveniers and I am now on the mailing list. I bought:
1 200g ball of 12 ply Merino in a creamy beige colour. I am going to use it for trim yarn for when I finally knit my second set of Belladonna Longies with the Goodmama yarn.
2 200g balls of 5 ply crepe for various projects.
4 200g balls of 8 ply merino in different colours for stash expansion.
I felt like I could have bought a lot more, but I restrained myself. I have shade cards and there are new shade cards coming out in the mail in a few weeks, so I will be able to peruse them and
plan
projects and buy yarn accordingly. You know, sensibly? :D