I took the little one to the park today to feed the ducks.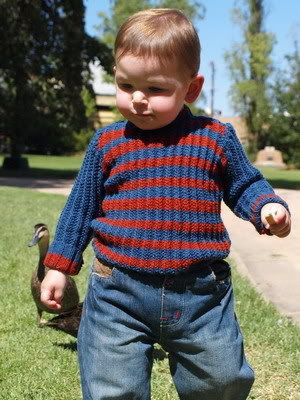 The weather is cooling down now, so today, I put the wee toddler-saurus in his Christmas jumper, lovingly knit by his Great Nanna. It is knit in 5 ply Bluebell and it is a wonderful jumper. She is a very talented knitter. :)
Now, on to my project:
This is Checkmate. I have been knitting it for a while and it is making good progress. I have completed the back, the front, 1 sleeve and 1/3 of the second sleeve. I am really hoping to have it all finished in a fortnight so that I can sew it up at our next knitting and knotting night in a fortnight. I want to be able to show my parents this sweater, as they will be here in 3 weeks. I think a few late nights for the next few nights should see it completed.
I'm already thinking about the next project. I am going to modify a longies pattern I have and make a pair of cabled longies. I am also changing the waistband a fair bit. I am going to knit the longies with a lovely bulky weight variegated yarn, so they should be fast.
Or, I could knit myself a cabled pair of ankle socks. I have almost a whole ball of rainforest green variegated opal sock yarn that has been begging to be knit up. I don't have a pattern, but I am imagining some possibilities. A nice twisted rib around the ankle, straight into knitting the heel flap and a decorative cable that runs all the way down to the tippy toes. Maybe I should try to make my own pattern? :D Am I being creative enough..... lol!!!
What do you think? Socks first or longies first?