I've been busy knitting late into the night recently. Firstly is
Baudelaire
by Cookie A.
Notes: Try something a little different with these lacy toe-up socks. A simple 8 row repeat leaf lace pattern paired with some cables, gusset increases, short rowed round heel, and genuine heel flap – enough to keep you entertained without driving you batty.
This has been a very satisfying knit so far. The lace is charted, and I tackled it, no problems. :) I don't know why I was so afraid of lace charts! I cast on the second sock already, using knitty's
magic cast on.

Yarn: 2 skeins Lorna's Lace's sock yarn in "Valentine"
Needles: 2x 2.5mm Addi Turbo's
Notions: Cable needle and yarn needle
I knit this in the largest size and it fits my foot wonderfully. Now, on with the second sock!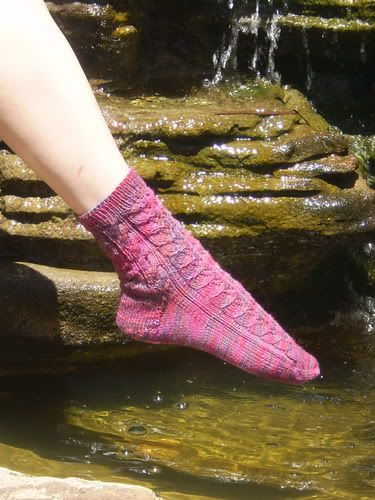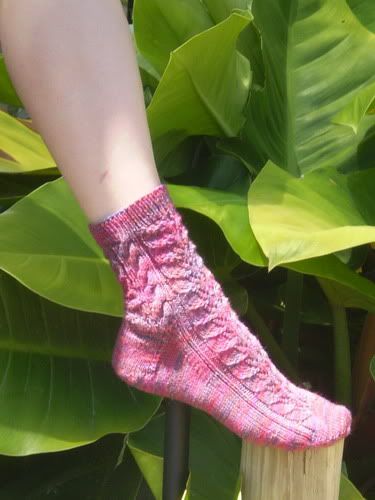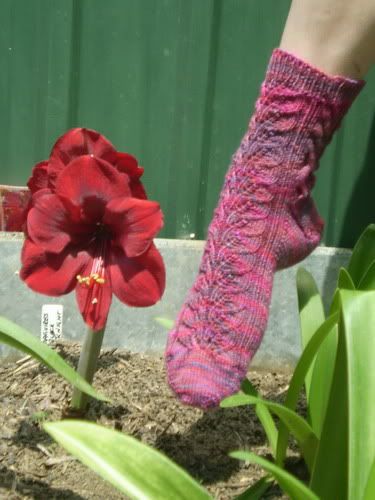 Secondly is
Liesl
. It is a gorgeous little feather and fan cropped cardigan that I knit up in 4 days.
Yarn: 3 skeins Jo Sharp Silkroad Aran
Needles: 7mm 80cm long circular
96.5cm bust measurement
Used a butterfly brooch to close the top
This yarn blocks like a dream!