My baby boy has decided to sleep in, and I awoke early this morning, so I have had heaps of time to upload photo's of all the projects I have been working on lately.
No further progress has been made on checkmate, although my fingers are itching to work with some 8 ply yarn again.
My latest WIP is a pair of baby socks for my friend Sharon. Her baby Eli is 1 week old today. I have completed 1 sock, and to prevent second sock syndrome, I have already cast on the next one and have done 1/3 of the leg already. I am using a ball of Opal sock yarn in the "rainforest" colourway and knitting the socks up on a pair of 2.5mm addi turbo's. I am just using a free pattern from Ravelry that has 2x2 ribbing all the way around the leg and then the ribbing continues right down to the toes. They knit up relatively quickly, mainly because the length is so short.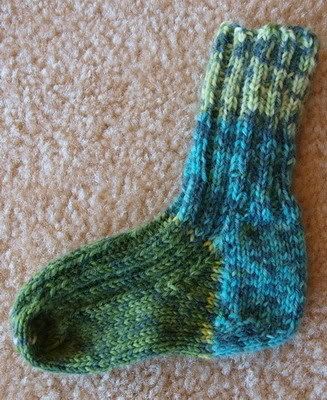 I knit a creative critter cozy for DJ. Sort of like an ipod sock, but it's not for an ipod. I made the pattern up from scratch. :D I knit the cozy with 2.5mm addi turbo's and 4 ply bamboo. I loved the feel of the bamboo while I was knitting it, although it was a little prone to splitting and very slippery. Maybe next time I will use a bamboo blend to overcome the extreme slipperyness.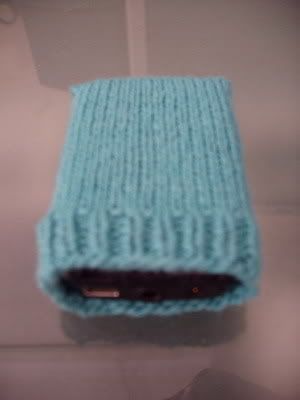 Oh, the next update is all of the wonderful amigurumi critters that my little sister has been crocheting for Jayden. She did a lot over the Christmas period. My bookshelf is almost full of critters now! Just look at how crafty she is. :D