Yesterday, the local grocery store decided to have a "market day". A lot of things went on special just for the duration of the day.
* I scored 12 Chicken Jumbo's (sort of like a chicken burger patty but thicker) from Lenards for $6.
* I picked up a loaf of bread from Brumby's for $1 (we've eaten half the loaf already because it was so soft and fresh).
* I picked up 10kg of navel oranges for $1. Yes, they were 10c a kilo. Win!
I went home and made orange juice.... and those 10kgs made up about 3.5 litres. It is the best tasting orange juice I have ever had! Jayden helped with the whole process, of course. :) Here he is lining them up in a nice neat row for me....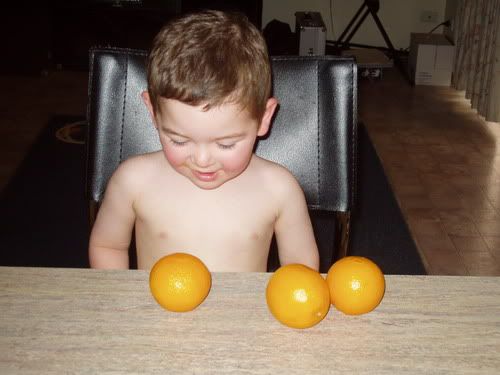 .....and then here he is eating the peel off one.
He kept pointing at them saying "Orange, orange". Occasionally, he would run off with an orange and hide it in with his toys, so whenever I saw him leave the room, I just knew what he was up to.
See how the oranges were halved, sitting in the bowl? Well that must have looked quite appealing to Jayden, because he kept helping himself. He LOVED it! He was super sticky afterwards, but DJ was the one to bathe him that night. Lol!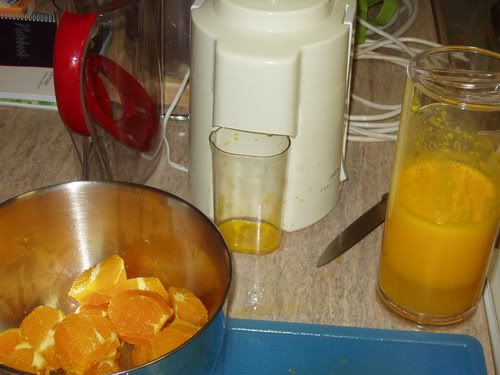 I went to Melbourne for the weekend and caught up with the In-Laws. Jayden loved all of the extra attention and he just had a blast.
We went shopping out at the Chadstone Shopping Centre, and it drove me a little nuts. Roadworks and other people driving on the road... makes for a very nervous me! I also got to meet my niece for the first time! My Brother-in-Law Andrew and his partner Rose had a little girl about 3 months ago, and the named her Tahliah. She's a sweet baby. It's amazing how quickly you forget how small they used to be. *sigh*
I also had the opportunity to make some memory wire crystal and pearl bracelets. The first one (purple) was for my Mother-in-Law. When she went home, her daughter Kat loved it so much that she started wearing it. Rose and I got onto the subject of beading, and she is a fan as well. I asked Dave if he could bring me down the other kits, and I made them both at the same time. I think that they turned out really well! I love beading, it's quick, fun and they make great presents. Beware though, it is really addictive.
When we returned home from Melbourne, I put Jayden's Birthday blanket in his cot. He absolutely loves it, 100%. I think it is because of all the lovely bright colours. It's lighter in weight than the blanket that he had on his cot, but really, it's perfect for this time of year.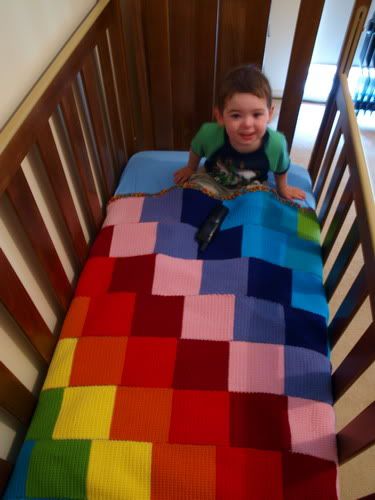 Then we played peek-a-boo!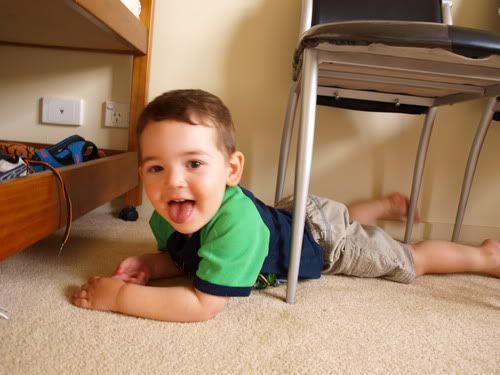 After that, Jayden saw Foofy, one of my childhood stuffed animals up on the top of his chest of drawers. I grabbed him down and let him have a play. I told Jayden that he needed to be very careful. So he gave Foofy a big cuddle and a kiss. It was so sweet!
Then I dressed Jayden for Santa photo's and headed off for that. Jayden was not particularly keen on the idea of Santa, and refused to be put down. In the end, I had a gold blanket draped over me and Jayden sat on my lap while I sat next to Santa. I hope that next year is a little better.
Then when we got home, Jayden crashed and went straight to sleep.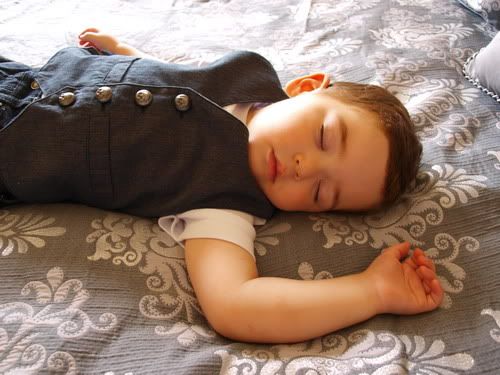 BTW, it's hot. 40 degrees + is not cool.
I have been doing knitting, and buying yarn, but I will save that for another post.
Of course, I get all of this done on the good days. On the bad days, well, it is just hard enough getting out of bed and getting dressed.