I finished knitting my Nice 'n' Girly crochet project bag!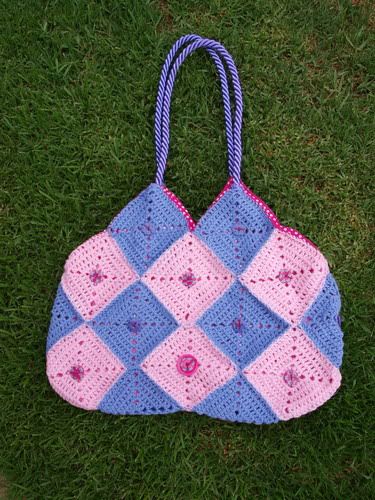 This was a lot of fun. It is the same as the one that I made for my sister, but this one is done in 8 ply. I really procrastinated when it came to sewing it up, because it took us so long to do last time.
Project Notes
Pattern:
Nice 'n' Spicy

Yarn: 200g each of Bendigo Woollen Mills Luxury 8 ply baby pink and lavender
Hook: 4mm
Notions: 12 pink butterfly buttons
:12 purple butterfly buttons
:Bag handles (I actually used curtain tie backs for mine!)
:Cotton for sewing up (I used sock yarn)
:Fabric for lining
I had a few pink buttons left over, so I decided to do a triple button stack. Yes, it is a real thing, no I did not just make that up. ;) It's a "Feature"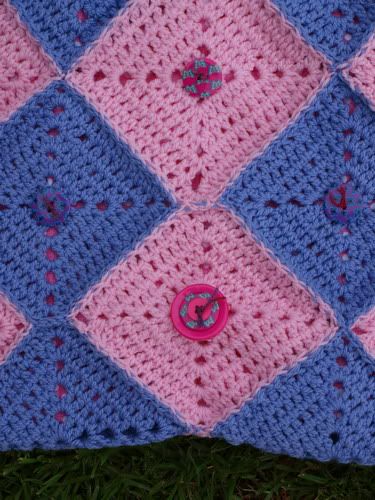 I also tied the knots off on the outside of the bag (instead of inside) because I thought the little tails would look like butterfly wings. Cute, eh?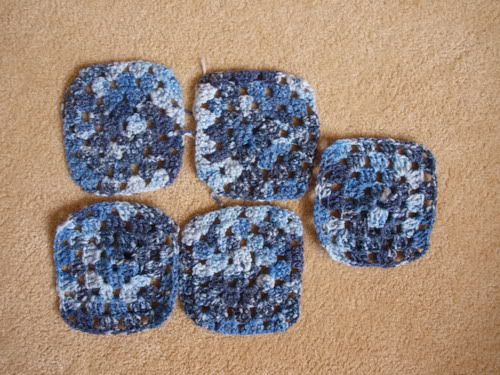 Secondly, here is the beginning of Jayden's blanket. I became obsessed with knitting granny squares, and I decided that a granny square blanket was the way to go. I am using a 5mm hook and Patons Zhivago yarn in blue and white.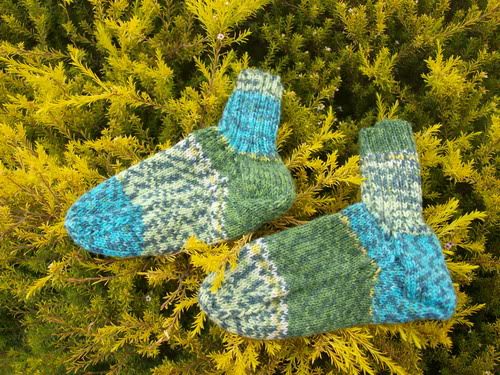 Jayden's Rainforest Toddler Socks! He came home from daycare missing a pair of socks, so I decided that I would knit him a pair, just for fun.
Project Notes
Pattern:
Easy Toddler Socks
Yarn: Opal sock yarn (about 1/5th of a ball)
Needles: 2.5mm addi turbo's
These knit up so fast! I would definitely make another pair.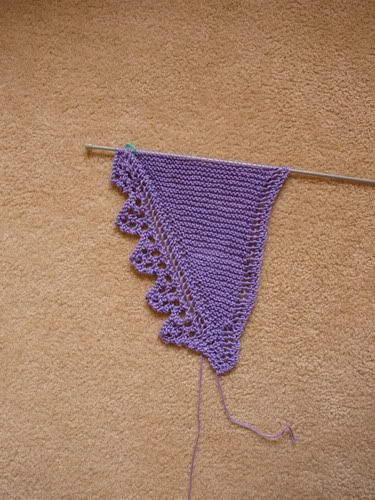 The beginnings of a
Gaenor
shawl. This one is knit from tip to tip, with the edging knitted all in one go. It's certainly an experience in shawl knitting.
Oh, and Jayden rocking out. He loves this guitar, and I could not resist taking this photo of him posing. :)