A friend of mine who I have only ever met online is having her second baby (a little girl) in a few weeks. I decided on the spur of the moment to knit her a
Milo
.
I love this pattern; this is the third one that I have knit. The newborn size is especially fun, as it only takes a day to knit up and you get to have fun with the cable choices.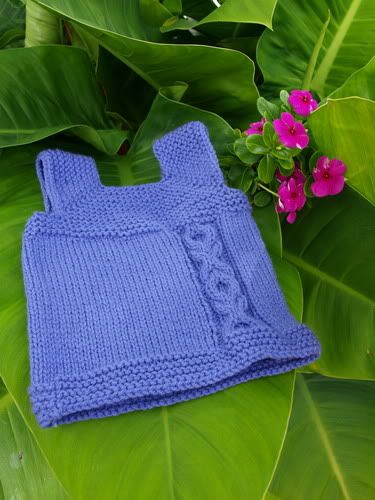 Project notes:
Yarn: Carnival 8 Ply Acrylic in Lavender
Needles: 4.5mm Addi Turbo's
Size: Newborn
Started: 11 Jan 10
Finished: 12 Jan 10
This is the first time that I have ever knit with acrylic, simply because there are no yarn stores up here apart from Lincraft and Spotlight..... and I am devastated that I am seperated from my beloved stash!!!!! Wah! Having said that, the yarn did knit up nicely and gave lovely stitch definition, and the garter stitch border didn't curl like the wool ones that I have knit. So that's a win. :)
Action shots to come.... I hope!