We had a great turnout for "World Wide Knit In Public day".
First place we went to was the Storehouse Deli. I got to wear my lovely February Lady Sweater.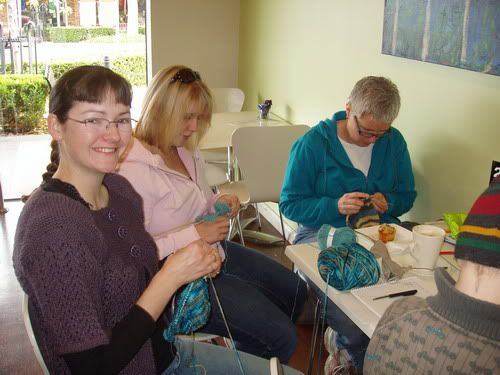 See! :)
We stayed for around 4 hours. I had 4 large latte's, 1 double ristretto and 1 Chai Tea Latte. Needless to say, I had a bit of energy to burn. Maybe it's not so surprising that I finished knitting Jayden's birthday vest. Lol!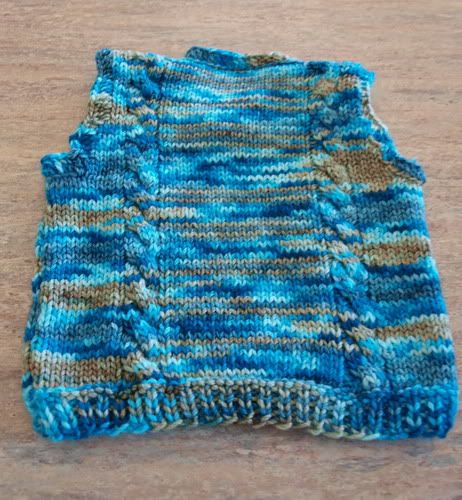 More photo's of the vest on
My Ravelry page
.
I used 1/2 a ball of Knitspirations 12 ply yarn and knitted it with 5mm needles. It came out beautifully. I changed the pattern too. I was supposed to do ribbing around the neck and arm holes, but
I decided to do double crochet!
It turned out great.
Later on that day, we all met up at Gelatissimo for ice-cream, coffee and affogato. Because my body had decaffeinated by that time of the day, I had to have a cappuccino! We then moved on to the Indian restaurant and had our main meals. We then took a leisurely stroll up to the teppanyaki bar. We decided that we would skip the entree's and went back to Gelatissimo for more ice-cream.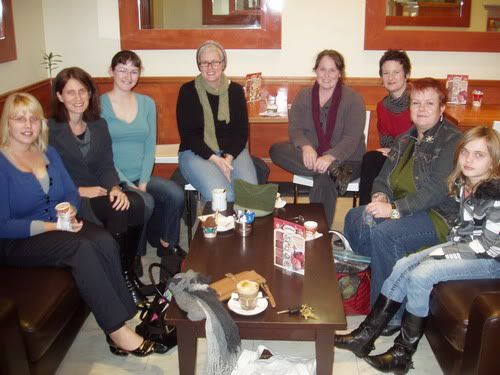 Here we all are at Gelatissimo at the end of the night.
While we were at gelatissimo, Kylie gave me a little present. It's a needle case - the perfect size for a pair of knitpicks. Isn't se so clever? The mushrooms are so darling, they remind me of being a Brownie Guide. :)

All up, it was a lovely day and it was so nice to get to spend all of that time with my friends. :)