They're finished!!! Yay!!!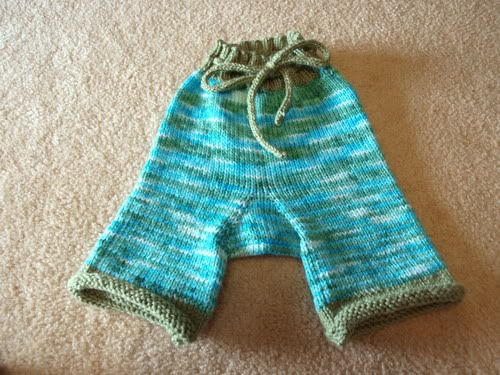 I actually finished this project last week, but I procrastinated knitting the i-cord for the waistband. I find i-cords too easy and therefore boring. Anyway, I sat down this morning and told myself that before I start knitting a new project that I have to finish an old one first. So I chose the Water Sprite Shorties. They look amazing and they fit Jayden perfectly!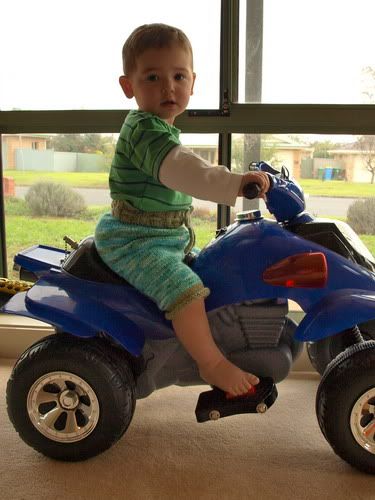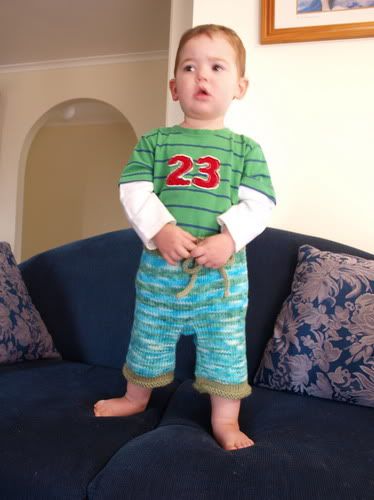 Pattern: Ladybug Loops on Ravelry
Yarn: 92 grams Knitspirations 12 ply in "Water Sprite"
50 grams Cleckheaton Country 12 ply in "Sage"
Needles: 4mm and 5mm Addi Turbo Circulars (30cm in 5mm for legs and 40cm in 4mm and 5mm lengths for everything else)
5mm DPN's for I-cord
Mods: 2x2 rib waistband with eyelet holes for the I-cord drawstring. Medium rise and legs. 4 rounds of garter stitch for the cuffs.
I used every last scrap of yarn for the whole project. I finished the body, and before I started knitting the legs, I divided the yarn that I had left in half. Then I cut it and wound it into 2 balls. I knit until I ran out of yarn for one leg and then trimmed it with the cleckheaton yarn for the cuffs. Did the same for the other leg too.