Recently, my dear friend
Kylie
bought some lovely hand dyed yarn from
Knitspirations
. I loved it so much, that I had to check out the website for myself. I saw some beautiful yarn called "Water Sprite" in a 12 ply and instantly fell in love with it. It arrived in the mail today. :D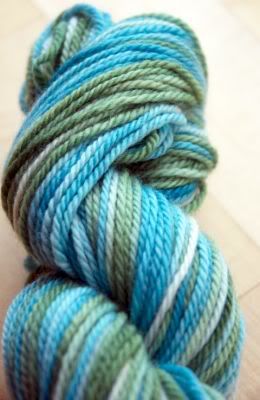 I am planning to knit a pair of shorties for Jayden out of this yarn, using the Ladybug Loops pattern found on Ravelry. I am also going to use some yarn from my stash for the legs and waistband.
After further drooling at Knitspirations, I decided to contact Jen to ask her to dye me up some yarn. I have asked for 2 lots of 250g.
Lot #1: Dark chocolate, milk chocolate, caramel, cream and coffee. Yummy.
Lot #2: Sandy yellow, aqua, sky blue and steel blue.
I am planning to knit more longies out of this yarn. Jayden is going to have nice, toasty warm legs this year.
With the crazy Autumn weather that we have been having, Jayden's feet have been getting quite cold running around on the lino in the house. I've been on the lookout for a pattern for a pair of felted slippers in order to keep his footies warm. I found this
pattern
today. I like the look of it, something I can knit without thinking about it at all. I was kinda hoping for something knit in the round.... I'm addicted to going round and round and round at the moment. :D
My finished object for this post is a pair of Ladybug loops! Last Thursday, I started to knit a pair of Longies using this pattern. I love it! I have no short row holes for the first time. Yay!!! I am definitely going to use this pattern again.
Pattern:
Ladybug Loops
(Ravelry)
Yarn: Bendigo Woollen Mill 12 ply "Sandstone" 30g?
Selah/Goodmama hand dyed yarn "First Love" 240g
Needles: 4mm and 5mm
Started: 23rd April, Finished 30th April
2x2 waistband ribbing, large Rise and legs, 3 needle bing off for the gusset, k2tog bind off for the cuffs. I cord drawstring.